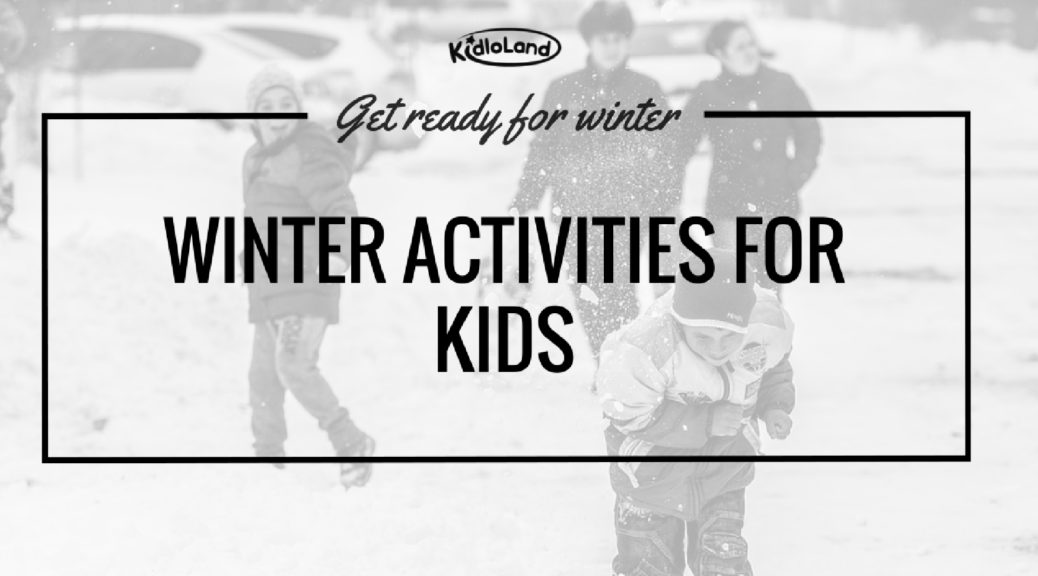 Top 10 Fun Winter Activities For Kids
Soon, it will start snowing and in a couple of months, Christmas will be here! Kids everywhere absolutely love playing in the snow while parents do not look forward to shoveling their driveway. Some people get excited for winter while some detest it. Well, you don't have to be glum just because there's hardly any sunshine. You can still make the best of it by participating in fun winter activities with your family.
Here are 10 awesome winter activities that you can enjoy with your kids!
1. Go skiing on the snow
A snow skiing getaway can be a great experience for the whole family. Kids can easily learn to ski with a good instructor and some practice!
2. Snowball fights
After you make sure that the snow doesn't have shards of ice or stones in it, you can make small snowballs and have a snowball fight! This is a great way to relax, relieve stress and have fun with your children.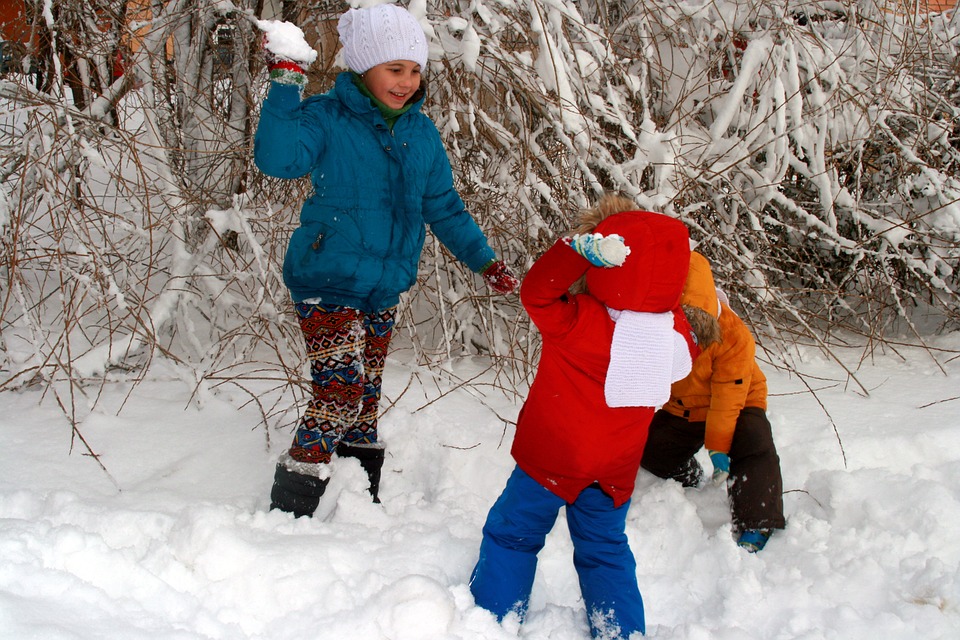 3. Shovel snow
Shoveling snow can be a dreadful experience if you're doing it alone. On the other hand, your kids will be excited to shovel snow with you! Get your kids their own kid's snow shovels and shovel snow together. This can be very helpful to keep them physically active during winter.
4. Go fishing
Get dressed in appropriate (layered) winter fishing gear, find a good spot and relax. Winter lowers the metabolism of fish and hence, they'll feed more if the bait is small. If you've never gone fishing with your child, this can be a brand new experience. Stay safe and have a great time.
5. Go sledding
Sledding is an exciting recreational winter activity enjoyed by kids and adults alike. Revel in the breathtaking views of snow-capped hills and enjoy sledding down the slope!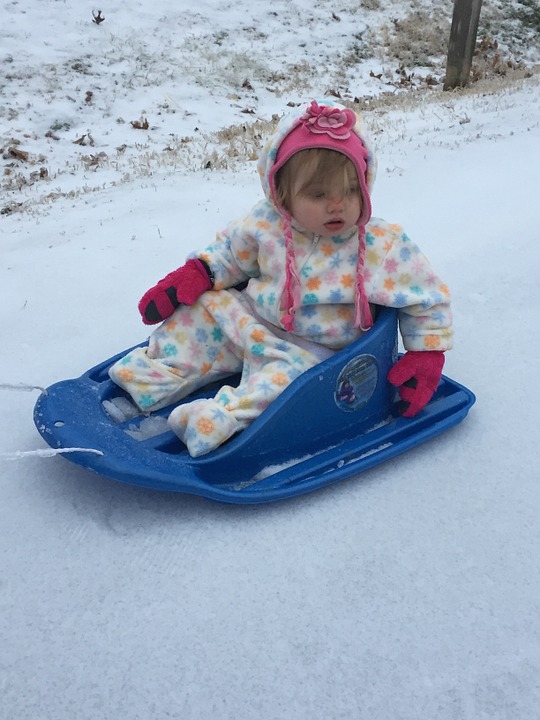 6. Go ice skating
What is winter without some ice skating? Going ice skating is a must-do activity in winter. Experience the cold breeze of a crisp morning and have fun gliding on the ice.
7. Make snow angels
If you ask your kids to make snow angels in the snow, they will happily oblige! Don't forget to capture these beautiful moments on camera!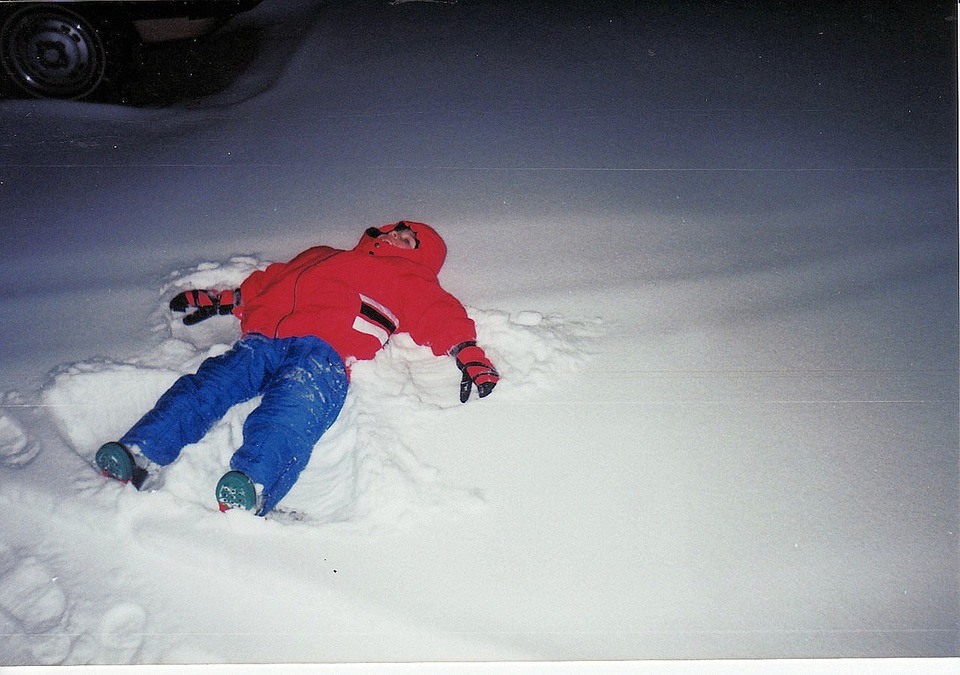 8. Make a snowman
The next logical step after making a snow angel is to make a snowman! Find a good place with lots of snow, make snowballs for the snowman's body and get creative with the accessories!
9. Make sock puppets
Staying indoors in winter can also be interesting for kids. Making sock puppets is simple and easy, you can watch this tutorial video to know more. Attach googly eyes and some fabric to complete your very own unique sock puppet!
10. Make paper snowflakes
This winter art & craft activity only needs two things – paper and scissors (Side note for parents – make sure you do all the cutting). Every design you create and cut will be different, just like a special snowflake! Here's a great guide to find out how to make beautiful paper snowflakes.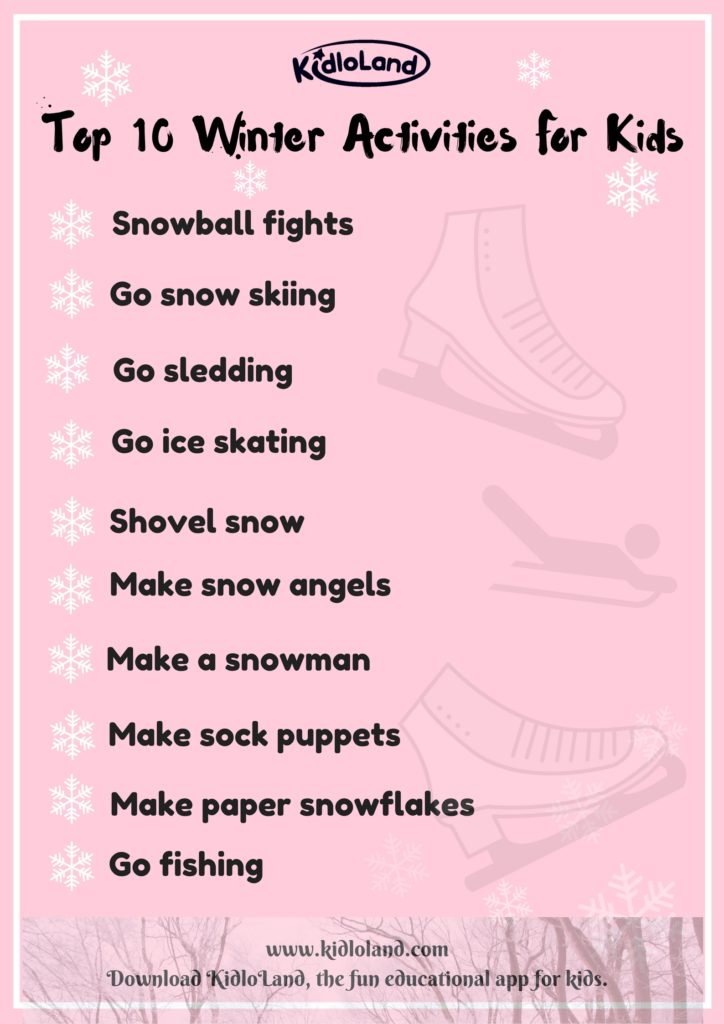 Image Credits: MihaiParaschiv, rogerconnertn, AdinaVoicu, PublicDomainPictures